timber frame design
what is timber framing?
Large section timber framing, some times referred to as green timber framing or just timber framing, utilizes traditional, tried and tested carpentry methods going back hundreds of years. Hand crafted oak framed homes have become more popular in recent years with television programmes such as Grand Designs featuring this method of construction many times. Traditional oak framing techniques can also be used to great effect in modern buildings, combining mortice and tenon joinery with steel tie rods and other metal components.
It is a good choice for sustainable construction. Unlike many processed materials, such as kiln dried timber, green timber can be cut straight from the log, and used in construction, after some careful carpentry. As a result of this process, the embodied energy is relatively low.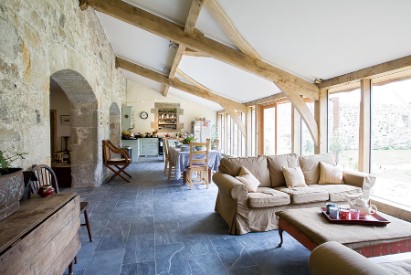 Structural Oak framing in the room above is used to support the heavily insulated roof and the glazed wall.

Oak is the most commonly used timber in this method of construction, though other types such as Douglas Fir and Larch are also used. Due to the timber's large size and high moisture content, the inevitable shrinkage in the timber causes distortion and splits as the timber dries in a centrally heated environment. These characteristics give it a unique natural feel and appearance which has great appeal to many clients. However, a design carried out by someone inexperienced can have unexpected results on the integrity of the timber and it's appearance, or even lead to structural failure.
design expertise
As an Architect, and member of the Carpenters Fellowship, Pete has considerable experience designing timber framed houses and other types of buildings and worked as a Frame Designer for nearly 10 years with Carpenter Oak & Woodland, one of Britain's leading timber frame manufacturer's. There he collaborated with Architect's and Engineer's on many residential and commercial projects, including the recently opened Robert Burns Birthplace Museum in Alloway. The key to a well designed timber frame building, is understanding how best to use this method of construction to create something not just structural, but beautiful. A well designed frame will also give a client better value for money by utilizing the timber to maximum effect.

Below is an oak reciprocal structure, the roof of a library to a new build house in Angus.
Tiree Bothy
This small building near the shore on the island of Tiree, provides much needed additional space for a family holiday home. The oak frame supports a heavily insulated timber panel system, forming the floor, walls and roof.
Wagon House, Fife.
Featured in Homes & Interiors Scotland and Build It magazines, this steading conversion uses oak framing in key areas throughout the house. This includes the kitchen, entrance porch and, the main feature of the house, the magnificent main staircase all by J. Rose Carpentry.


Hall Row, Fife.
A traditional oak frame is used as a structural frame for a two storey extension to a terraced house in Charlestown, Fife.

Oak framed Hall in France

This colossal oak framed structure in Normandy, France, forms the centre point of a small town. Used for market days and town events, it is the perfect space for locals and visitors to get together. Designer unknown.

Cafe / Retail Unit with Bike Workshop and apartment, Falkirk

The development at Greenrigg, outside Falkirk, uses large section Douglas Fir structural frames in the public areas to support the roofs and walls.

Small is beautiful
Below are images of an oak frame model, built by French Carpenter Alric. The attention to detail and craftsmanship are outstanding.
1 West Road

Charlestown

Fife

KY11 3EW